COMPLETE COACHING- is a professional development project focused on coaching coaches. Through a summer professional development program differentiated for mathematics coaches and specialists, we engage our participants in high leverage PD routines that can develop coaches' and teachers' content knowledge and teaching practices.
HIGH LEVERAGE PD ROUTINES FOR COACHES AND TEACHERS
One of these high-leverage PD routines include our Coach Facilitated Lesson Study model.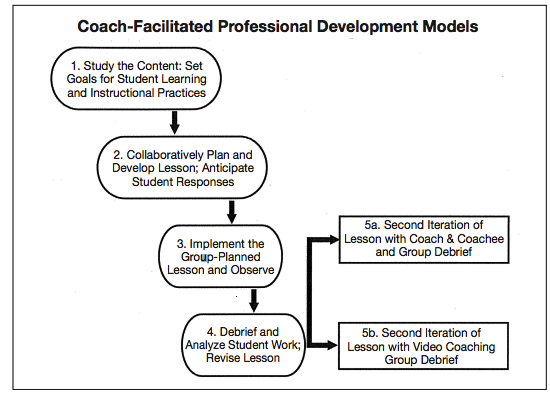 Suh, J. M., Birkhead, S., Baker, C., Frank, T., & Seshaiyer, P. (2017). Leveraging Coach-Facilitated Professional Development to Create Teacher Social Networks for Enhancing Professional Practice. In M. Boston & L. West (Eds.), Annual Perspectives in Mathematics Education: Reflective and Collaborative Processes to Improve Mathematics Teaching. Reston, VA: National Council of Teachers of Mathematics.
APME 2017_chapter 7
2) Math Vertical Articulation to Unpack the Learning Trajectories-Math VAULT
3) Bridging Equitable Teaching Practices through Social Justice Pedagogy in Mathematics
Other PD TOOLS